Work Opportunities
Click here to start earning $3000 - $6000 per week... or scroll down for more information
Dear Ladies,
Are you slim and attractive aged between 18-30 years old?
Do you always have guys propositioning you?
Would you like to earn between $3,000 – $6,000 in cash per week?
WHY NOT WORK IN:
* SYDNEY, New South Wales
* MELBOURNE, Victoria
* THE GOLD COAST, Queensland
* PERTH, Western Australia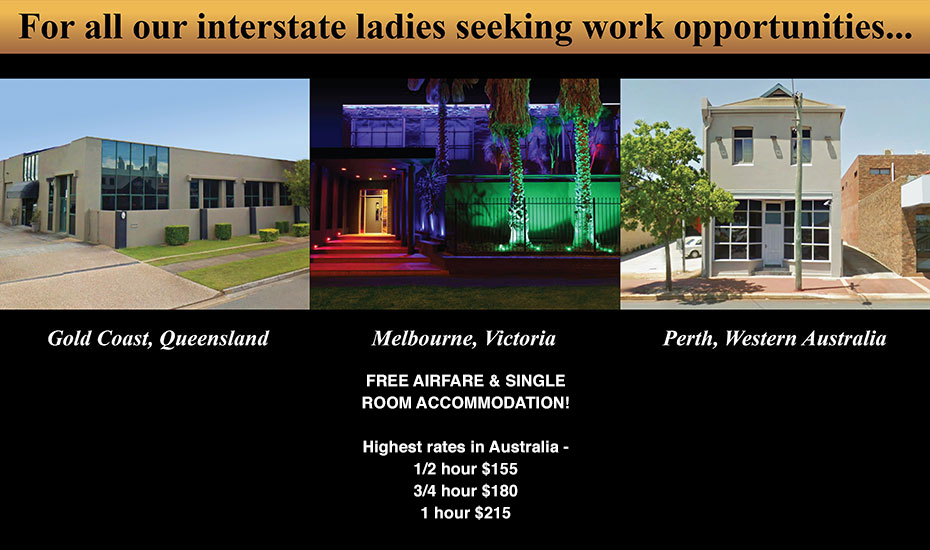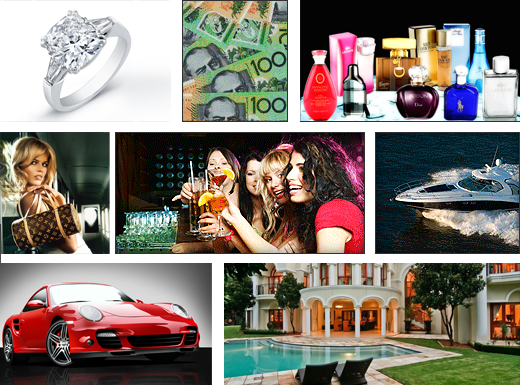 Please Consider:
Our enviable position of being one of the best in Australia.
Established over 25 years with access to a loyal corporate client base.
Sydney's leading establishment with a worldwide reputation.
6 Star ultra-luxury boutique-style establishment.
The longest operating bordello in Sydney, so we can assure you the clients are definitely here!
We are flat out and genuinely super busy with unlimited earning potential.
Voted Sydney's busiest parlour with a minimum of 6-8 clients per shift.
Earn more in one night than you do in two weeks.
Extensive marketing and advertising initiatives with an award-winning website.
Providing for the 'A' list of wealthy clientele in Sydney.
Highest rates of pay in Sydney with no bonds or shift fees.
Choose your own hours of work to fit in with your other commitments.
Immaculately clean & beautifully decorated throughout.
Security cameras & monitors are provided so you can view all the clients first on camera.
Enjoy an extremely friendly and relaxed environment with very caring female management.
Best possible working environment addressing all comfort, safety, health & security matters.
Relax in your own luxurious private lounge & make-up area.
No experience required as full step-by-step training is provided. "We specialise in just beginning!".
Clothing & footwear supplied to all new ladies.
Work references, financial and accounting advise given with our compliments.
Free airfares for those living far away, as well as free quality accommodation.
Perfect for travellers and students. (make big money while you're travelling or studying).
Strippers, dancers & models also very welcome.
Jobs and work for overseas backpackers from England, Ireland, New Zealand, Germany and anywhere else!
Only 1 minute from train station and CBD. Easy access by train with a discreet back entrance.
Your privacy & discretion is of upmost importance to us and a confidential interview is assured.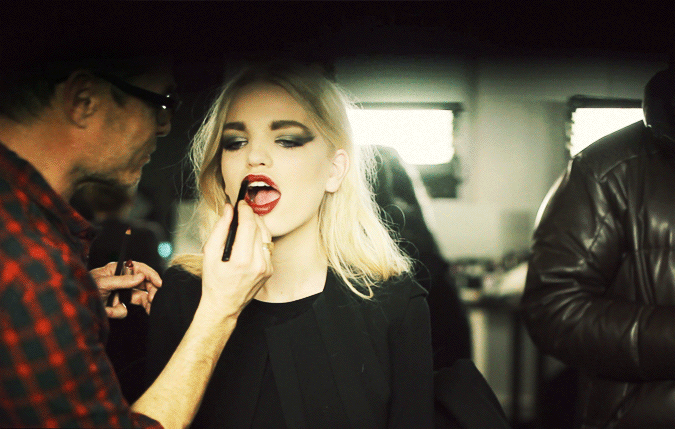 Our in-house make-up artist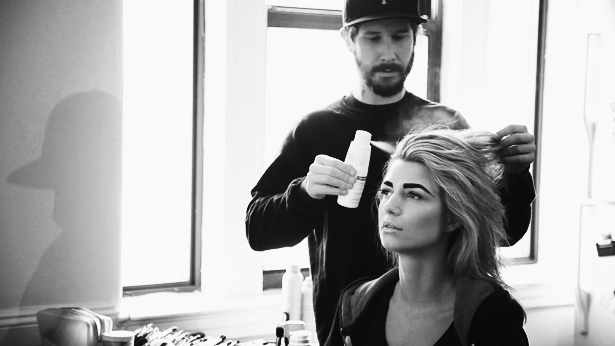 Our in-house hair stylist
Whether it's your first time, or you've worked before,
we will give you all the help you need to feel comfortable and make a lot of money.
We are super friendly and there is absolutely no obligation.
We look forward to hearing from you and welcoming you abroad.
"Nowhere else will you earn this kind of money.
We guarantee it! Beware of other websites that make false promises and avoid the disappointment of lesser places."
Free Airfares to Sydney, Melbourne, The Gold Coast and Perth
Free Accommodation
CONTACT: CATHY
SMS ONLY: 0428 048 210
Sorry, we are too busy to answer phone calls.
Please SMS for an immediate response.
or
Email: [email protected]
No experience
Are you serious about earning a substantial amount of money?
Never worked in the adult industry before?
Not a problem!
Not sure if you are right for the job?
Please call us and don't be afraid to ask anything you want to know. Speak to someone who understands.
No experience is necessary to begin your lucrative career at The New Golden Apple, as we provide genuine care, support & full training as well as guidance on grooming & technique, to assist in you making a substantial income.
Ladies tour
Dear Ladies,
Why not come in for a guided tour of our
immaculate facilities at The New Golden Apple?
Simply call our friendly & helpful receptionists who
will arrange a no-obligation tour for you.
Have your questions answered and curiosity satisfied.
An experience like no other!
Regards,
Lisa xx
Charities we proudly support
The Management of The New Golden Apple strongly believe that every puppy & kitten deserve the right to live without any abuse.
Some of the puppies & kittens that we have seen, are, I'm sorry to say, the deliberate victims of sadistic violence. Burns, fractures, & bruises are some of the worst sights we have ever witnessed, many too badly tortured for us to describe without upsetting you – this leaves us feeling most distressed & appalled by the depths of some people's cruelty. We financially support the below charities, who are wonderful advocates for the rescue & survival of abused pets, as well as pursuing the perpetrators of these horrendous acts of cruelty.
All new ladies who choose to work at The New Golden Apple do so with the knowledge that they are helping support these defenceless puppies and kittens from being systematically destroyed.
Do you want to earn between $3,000 - $6,000 in cash per week?
Send me a message now and I will personally respond to you within 5 minutes, so please standby for my reply! Cathy Xx

Your details will remain private and confidential at all times.
CONTACT: CATHY
SMS ONLY: 0428 048 210
Sorry, we are too busy to answer phone calls.
Please SMS for an immediate response.
or

Email: [email protected]
All ladies acknowledge that by choosing to rent our rooms they act totally independent of this business and as such have a seperate agreement with the client for the provision of their service.
As a result of this the clients payment to the lady for their service has nothing to do with the business.